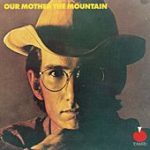 Singer-songwriter Townes Van Zandt (whose full name was John Townes Van Zandt) was an enigmatic, perhaps singularly talented individual.  He never had a hit song, and most people probably don't even know his name.  Nevertheless, he was quite influential in the music business and his songs – the best known of which are "Pancho and Lefty" and "If I Needed You" – have been recorded by numerous artists, including Willie Nelson, Emmylou Harris, Guy Clark, Joe Ely, Cowboy Junkies, Lyle Lovett and many others.  A documentary film about his life, entitled Be Here To Love Me was released in 2004, and he has been the subject of at least three full length biographies, perhaps the best being A Deeper Blue:  The Life and Music of Townes Van Zandt (2008), by Robert Earl Hardy.  I can't hope to give much insight into his life in this brief post, so let me simply tell you why this is a Colorado Song.
First, of course, the name of the song is "Colorado Girl," which probably qualifies it for inclusion even though it comes from a quintessential Texas songwriter.
My maternal grandparents settled into Sulphur Springs, Texas, which is between Dallas and Texarkana, in the latter part of the 19th Century.  If you were to travel to the southwest for less than an hour from their house, you would be in Van Zandt County, which is nothing at all like Colorado.  The county was named for Townes' great-great-grandfather, who had been the official diplomatic representative of the Republic of Texas to the United States, and who had died while he was running for governor.  His great-grandfather was one of the founders of Fort Worth.  His mother's maiden name was Townes, and she was a direct descendant of John Charles Townes, for whom the main building of the University of Texas at Austin Law School was named.
With that pedigree, he might have spent his life in Texas and become quite influential in matters other than music.  However, his father was an attorney in the oil industry and his business required the family to move frequently.  In 1958, when Townes was 14 years old, they moved to Boulder, Colorado.  He attended school there for a short time, but because of his extremely high IQ he spent his last high school years at the exclusive Shattuck-St. Mary's School in Fairbault, Minnesota, where the son of Senator and soon to be Vice President Hubert Humphrey was one of his classmates.  After graduating from Shattuck in 1962, he returned to Boulder to attend the University of Colorado.
By that time, his family had moved back to Houston, Texas, and from a distance they became quite concerned about Townes because of episodes of binge drinking and depression.  Near the end of his second year at CU, they brought him back to Texas and had him admitted to a University of Texas medical facility in Galveston.  He was diagnosed with what was then called manic depression (and now would probably be a form of bipolar disorder) and was treated for three months with insulin shock therapy, which is no longer used.  It seems to have restored him to an appearance of normalcy, though the treatment erased much of his long-term memory.
In 1965, he enrolled in the Pre-Law program at the University of Houston, joined a fraternity, and seemed to be back on track to join the Texas aristocracy.  One thing he missed from his days in Boulder, though, was a girl named Fran Petters.  At the end of the school year, he came back to Colorado for her, and they were married in August of 1965.  It seems that she is the Colorado Girl about whom the song was written.
In early 1966, Townes' father died suddenly of a heart attack at the age of 52.  Shortly thereafter, Townes dropped out of college and devoted his full time to songwriting and performing.  Although he was not much of a commercial success, he was writing prolifically and released his first three albums in 1968 and 1969.  The second album was entitled Our Mother the Mountain and it contained the song "Colorado Girl," as well as "My Proud Mountains," which is another song about his time in Colorado.
"Our Mother the Mountain" sounds like it should be about Colorado, but I don't think it is.  It is actually quite disturbing if you pay attention to the lyrics.  If you are not familiar with it, you can click here to hear the song on YouTube.
Townes Van Zandt spent the rest of his life – which was also frequently disturbing due to his abuse of alcohol and various drugs – as a musician in Texas and Nashville; but he maintained his love for Colorado.  He returned here often, frequently to the Crested Butte area, and he said that he spent several summers simply riding horses alone in the mountains.
His lifestyle led him to marry and divorce three times, and seriously damaged his health.  Like his father, he suffered a heart attack and passed away at the age of 52, on New Year's Day in 1997.  He left some great music for us to enjoy – something he seems to have done for the sake of the song.
Colorado Girl
By Townes Van Zandt
I'm goin' out to Denver
See if I can't find
I'm goin' out to Denver
See if I can't find
That lovin' Colorado girl of mine
The promise in her smile
Shames the mountains tall
The promise in her smile
Shames the mountains tall
She can bring the sun to shining
Tell the rain to fall
It's been a long time, mama,
Since I heard you call my name
Ah, been a long time
Since I heard you call my name
I got to see my Colorado girl again
Be there tomorrow
Mama, don't you cry
Be there tomorrow
Now, mama, don't you cry
I got to kiss these
Lonesome Texas blues good-bye
© BMG RIGHTS MANAGEMENT US, LLC
For an index of the Colorado Songs in this series, please click here.