Chapter 24 – I Don't Want To Brag
On tiptoe your stance is unsteady;
Long strides make your progress unsure;
Show off and you get no attention;
Your boasting will mean you have failed;
Asserting yourself brings no credit;
Be proud and you will never lead.
To persons of the Way, these traits
Can only bring distrust; they seem
Like extra food for parasites.
So those who choose the Way,
Will never give them place.
Translation by R. B. Blakney (1955)
 Don't you just hate those people who live in their ego and miss out on real life outside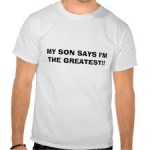 the illusion of the physical world?  I'm glad I'm not like that.  I am modest – and proud of it.  I am careful to do all things in moderation.  My wife says I always take moderation to an extreme – yep, and I'm proud of it.  I am not like those folks who always have to be the center of attention.  I think I'll write about a blog about them so everyone can read my own modest, but critical, appraisal of those social parasites.
I don't even need the external world with all of those phonies; I can simply meditate and go within.  That is something I am really good at doing.  I can probably reach a state of satori in 45 seconds – really.  Do you want to race?
Just to show you how modest I am, you don't even have to call me Kahuna any more.  I am a Reiki Master, of course; so you can call me Master.  Or call me Shaman or Blessed or Sri.  It doesn't matter; I will answer to any of those.
And, you know, I can be really good at sarcasm.  I don't want to brag about it; but hey!
_______________________________________________
Oh my.  I have read entirely too many books and essays and blogs that come off that way; or at least they come off that way in my perception.
Lao Tzu and many other teachers have told us and shown us that our ego is the biggest obstacle to an understanding of this life and our place is the cosmos.  Some, like Lao Tzu and Jesus and Socrates have done that so well, that we (or I, or perhaps the royal "we") accept it and try to better ourselves.  Many others, though – poor writers, just like me – have tried to convey similar messages, but with less skill.  Perhaps the skill is less because they (we) are approaching the subject from a lower level of consciousness than are the true masters.  As St. Paul wrote (1 Corinthians 13:12), "For now, we see through a glass, darkly; but then face to face:  now I know in part; but then I shall know even as also I am known."
Or, perhaps, in my perception, it seems difficult to accept statements of universal truth from anyone whose words have not withstood centuries of analysis and contemplation.  There is a line from an old Bob Dylan song:  "I said, 'They criticized Jesus, too./ He said, 'Yeah, but you're not him.'"
Sometimes there are good reasons to be wary of pronouncements from self-appointed "experts."  A notorious example is James Arthur Ray, the so-called "self-help guru" who became famous through his appearance in the movie "The Secret" and then caused the deaths of three innocent people because he apparently did not know how to conduct a sweat lodge ceremony.
Other times it is difficult to avoid giving the perception of self-aggrandizement, even unintentionally.  I remember one night many years ago.  Some friends had invited me to their house to play bridge.  They also invited a young lady, whom I had not met to play as my partner.  They asked if I would pick up Kathy (that was her name – not the same Cathy as my wife Cathy) so both of us would not have to drive, making it feel like a blind date in many ways.  We spent an enjoyable evening, and as we were driving back to her apartment the radio began to play a well-known classical piano piece.
The music triggered a memory.  I said, "I went to high school with a girl named Bobbi, who was later at the University of Colorado Music School as a performance major, with piano as her primary instrument.  We dated for a bit while I was in law school, and I remember her practicing this movement a few times when I was visiting her.  It is really a beautiful piece, and she was so good."
I am not sure why I said that.  I thought I was making conversation.  Kathy, though, had her own perception.  She responded, "Do you think you have to impress me by talking about the fantastic women you have dated?"
That wasn't what I thought or what I was trying to do.  To try to explain my thought process, I reverted to my habit of quoting lyrics from a song.  In this case, the song was John Stewart's "July You're a Woman."  I told her about the lines that go:
I have been around
With a Gypsy girl named Shannon,
A daughter of the devil.
It is strange that I should mention that to you,
I haven't thought of her in years.
 I said that it was simply a strange thought that had popped into my head.  I didn't really know why I blurted it out.  Kathy seemed to accept that explanation because she had known me for several hours and had seen my mind do some strange things:  "Why would you bid like that?" she had asked several times; or "What made you think you should lead a spade?"
I tried to put it in context by quoting from the first verse of the song:
I can't hold it on the road
When you're sitting right beside me
And I'm drunk out of my mind
Merely from the fact that you are here.
And I have not been known
As the Saint of San Joaquin,
And I'd just as soon right now
Pull on over to the side of the road
And show you what I mean.
She didn't buy that, and certainly did not invite me in when we arrived at her apartment.
Anyway, Kathy is a true bodhisattva who has been a good friend and kept me honest and reasonably humble for more than 35 years now.
 ____________________________________
Various essays I have written for the Tao Te Ching Tuesdays series have quoted from not only Lao Tzu, but also the Bible, sutras, Jewish mystical literature, and similar works; but I recently realized that I have not referred to any Muslim scriptures.  I would like to close this post, though, with a quotation from the Quran (verse 31:18):
"Do not turn your face from others with pride or walk arrogantly on the earth.  Verily the Almighty does not like those who are arrogant and boastful"