Chapter 56 – One Who Knows Does Not Speak
 Those who know, don't talk.
Those who talk, don't know. 
Shut your mouth.
Be still. Relax.
Let go of your worries.
Stay out of the spotlight.
Be at one with the world
and get right with Tao. 
If you get right with Tao,
you won't be worried
about praise or scorn,
about winning or losing,
about honor or disgrace.
That's the way to be.
 Translation by Ron Hogan (2004)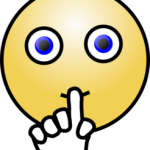 This is the famous "One who knows does not speak; one who speaks does not know" chapter of the Tao Te Ching.  I have chosen Ron Hogan's translation for this week's Tao Te Ching Tuesday consideration.  Like much of Hogan's approach to Lao Tzu, it is probably more an interpretation than a literal translation, and here I believe his interpretation is on target.
The sage is the person who is at one with the world and right with Tao.  That state of being is not something that is taught through words, but is acquired through right action.  Such a person is not concerned how others might perceive him or her.  Being free of the need to conform to others' judgments, a sage teaches by example and not by preaching or prescribing exercises or requiring rigid adherence to a curriculum.
That other kind of teaching often does not produce results, anyway.  The knowledge we need to be one with the world is certainly in the world – but not somewhere out there in the world.  It is within each person in the world.  The words of a teacher or guru may help some of us; however the learning must occur silently within the soul, the essential being.  Be still, we are told.  Relax.
I could quit now; and if you would like to quit reading at this point, please do.  I am going to continue for just a bit, though.
Some of the other translations of this chapter that I have seen include language that goes beyond the advice to "shut your mouth," and advise the reader to close doors or close gates in order to achieve a "primal union." That could be interpreted as instruction in meditation concerning the control of chi as it flows through the body's energetic gates, such as the dan tien. 
I don't want to discuss the belief of some that there are secret techniques by which a person can tap into and control Universal energy for personal benefit.  Really, if Lao Tzu or I knew how to do such a thing, it is not something about which either of us would speak.  Beyond that, such quests for power or control have no place in the Natural Way that I have been calling Tao.  Instead, history has shown how they can lead to incidents like the beliefs of the Maoshan Taoists (a sect that believed in magical practices) culminating in the Boxer Rebellion at the end of the 19th Century, an event which resulted in over 100,000 deaths, brought Manchuria under Russian control*  and led to great oppression of the Chinese people.
I assume without knowing that Lao Tzu did meditate from time to time, but I don't see the Tao Te Ching as a meditation handbook.  Certainly meditation was practiced in later Taoism and I would like to share a bit about meditation from Lieh Tzu.
Lieh Tzu was a Taoist sage who supposedly lived about 100 years after Lao Tzu, during the violent Warring States Period.  Reflecting the dysfunctional culture in which he lived, Lieh Tzu is supposed to have been essentially a hermit who wanted nothing to do with rulers or governments or armies.  The text attributed to him is a collection of stories assembled several centuries later, many of which evidence a negative view of society and the physical world.**
Eva Wong, who was my Tai Chi teacher for several years, and who taught me most of what I know about Taoist Meditation, has "translated" Lieh Tzu in a book called Lieh-Tzu:  A Taoist Guide to Practical Living (1995).  I have put the word "translated" in quotation marks because like Ron Hogan, Eva has presented us with more a modern interpretation than a literal translation.  I have taken the following story from her book, and I think it represents her view at least as much as Lieh Tzu's"
When I asked Old Shang to be my master and Pai-kao-tzu to be my friend, I decided to work hard to discipline my body and mind. After three years, I was afraid to have notions of right and wrong, and I did not dare to speak words that might offend or please. It was only then that my master glanced at me and acknowledged my presence. Five years later, I thought freely of right and wrong and spoke freely of approval or disapproval. My master gave me a smile. Seven years later, my thoughts came naturally without any conceptions of right and wrong, and words came naturally without any intention of pleasing or offending. For the first time, my master invited me to sit by his side. Nine years later, no matter what came to my mind or what came out of my mouth, there was nothing that was right or wrong, pleasing or offending. I did not even entertain the idea that Old Shang was my master and Pai-kao-tzu was my friend.
As Ron Hogan might say (see above):  That's the way to be.
If I go on speaking (writing), it will probably disclose how little I know.  I do know that I should be silent.
___________________________
* And that, of course, is a candidate for other kinds of control.
**For example, in the infamous "Yang Chou Chapter," Lieh Tzu points out that a human lifespan has a limit of about 100 years, and fewer that one person in a 1,000 attains that age.  Nearly half of life consists of infancy and feeble old age.  During the 25 or so years of life's prime, half of one's time is spent sleeping or wasting time while awake.  Then we must factor in pain and sickness, sorrow and suffering, loss of loved ones and general worry and fear. He concludes, then (as translated by Wing-Tsit Chan (1963)):  "I reckon, there is not one moment in which we can be happily at ease without worry."  You can see why his is referred to as "negative Taoism."