I have just returned from a week in Florida where there seems to be a law that tourists are required to listen to Jimmy Buffett's "drunken Caribbean rock 'n' roll."  Down there, nobody even thinks about – and perhaps they don't even know about – Jimmy's long-time ties to Colorado, which began no later than 1970 when "A Mile High in Denver" was included on his very first album, Down to Earth (1970).1
Jimmy Buffett was born on Christmas Day, 1946.  He grew up in Alabama and Mississippi, and earned a degree in History from the University of Southern Mississippi in 1969.  However, he really wanted a career in music and soon moved to Nashville where he worked for the regional staff of Billboard magazine and played in local clubs.  He is a talented writer and musician and was quickly discovered and signed to record for Barnaby Records, a label owned by singer Andy Williams.
Sometime before that first record came out, Jimmy vacationed in Colorado.  It being 1970, and Jimmy being Jimmy, the title's reference to being a "mile high" has been seen as a sly refere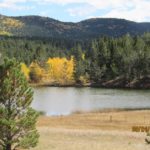 nce to drugs.  It may very well be that, but the song is mostly about a vacation in Colorado.
That first album is stylistically much different than Jimmy's later work.  Back in 1970, he seemed to be another folksy singer/songwriter offering social commentary with songs like "The Christian?" and "Ellis Dee (He Ain't Free)" and clever tunes like "Captain America."  However, that first album also had an excellent song about Jimmy's grandfather, a old seafaring man, called "The Captain and the Kid" that gave a hint of his future work.
Jimmy did not remain in Colorado.  After he left Nashville, he spent a couple of years busking in New Orleans and Key West, during which time he developed the "Gulf and Western" style that has defined his career and made him rich and famous.
Still, he must have liked Colorado because when he became rich and famous he moved here and bought a house on Snowmass Road outside of Aspen. Continue reading →