By special request, this installment of Colorado Songs considers a song that is actually called "Colorado," written by Rick Roberts.
Often, it is difficult to determine what may have motivated or inspired the composer of a song.  That is not the case here because Rick Roberts wrote a book called Song Stories and Other Left-Handed Recollections in 2014 which explains many of his songs, including this one.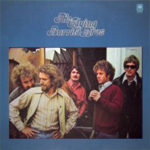 It seems that after high school he decided to travel from Florida to California to become a rock star.  On the way, he passed through Boulder, Colorado and stayed for a few months.  When he finally hitchhiked to Los Angeles, he found that becoming a star was not quite as easy as he had envisioned, and started thinking that maybe he had made a mistake leaving the beauty and culture of late-1960s Boulder.  Then, he writes, "[t]hat was when this song came tumbling out. … It was one of the first songs I ever wrote that was not just an imitation of somebody else's work."  The parts about the girl he left behind were made up for the sake of the song.
Roberts' luck did change for the better.  In 1970, Ed Tickner, the manager of the Flying Burrito Brothers, heard Rick playing at a small club.  He was impressed with the young man at just the time Gram Parsons had left the Burritos and the group was looking for a replacement.  Tickner and Chris Hillman invited Rick to join their group and his songwriting talents began to blossom.  Within a few months, the Flying Burrito Brothers released their eponymous third album which included "Colorado" and six other songs written by Roberts..
The Flying Burrito Brothers essentially broke up shortly thereafter, though they continued with differing lineups as a country music group for many more years.  Roberts, meanwhile, began a solo career and moved back to Colorado in the mid-1970s (answering the question at the end of this song:  "Colorado, … won't you let me come home?"). Continue reading →