May 6, 2013
58 of 65
Darcy Dog
After the passing of Emmy, I didn't know if we would ever have another dog.  It was partly because it feels so bad when a puppy grows up, experiences the prime of life, grows old and dies, all before your eyes.  Their lives are much like yours and mine, only compressed.  Unlike humans, though, dogs don't leave you – they are with you for their whole lifetime, as long as you will have them.
It was also partly because our children were grown and Cathy and I were both working full time.  I didn't want the dog to have to spend so much time alone.  Oh sure, our cat Mimi would be around, but she does not enjoy the company of dogs.
Our daughter Suzanne was with us when she was out of school, and during those times we had her Shih Tzu, Bailey, giving us some good dog days.  Eventually, Suzanne moved out on her own and then got married.  Bailey was not around as much after that, though we do get to watch her and Marvel (her husband Jeff's dog) during their vacations, ski trips, etc.
When I finally set a date to retire from my work at Heritage Title Company, Suzanne decided it was finally time for me to have a new dog.  Every week she would look at the web sites and Facebook pages of shelters and dog rescue organizations and email me pictures of their dogs.  In mid-February (2012), she convinced me to go out and look at some of the puppies that Rocky Mountain Puppy Rescue League made available for adoption at a local Petsmart store.  I thought they were all wonderful, but our house was not puppy-proofed and I needed to make some repairs on the back fence.  There were many "reasons" not to take one.
Two weeks later, Suzanne accompanied me to another Rocky Mountain Puppy Rescue League event.  There was a list of the puppies available for adoption, and over to one side was a cute little 12-week old black and tan dog that had been named Sugarpie.  They said she was a Kelpie mix.  I was told Sugarpie and her litter mate had just arrived from a shelter in Kansas and they had not listed her with the others because she was so new.  I began playing with her, and she seemed to like me.  Nevertheless, I was not quite ready for a new puppy.
Forty-five minutes later, after I had held the dog some more and Suzanne had insisted I was meant to grow old with that particular dog, I agreed to adopt her.
As soon as we got home, I told my wife that we needed to determine whether we would let the puppy (I wasn't crazy about the name Sugarpie, so I knew that would change) lie on the couch, remembering that she could grow to be 35-40 pounds.  Minutes later, we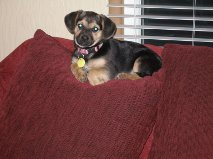 took the picture you see here.
She told us, in her puppy talk, that the adoption papers I had signed included a lying on the couch clause.  It remains her favorite place.