Chapter 10 – Tai Chi
Can you coax your mind from its wandering
and keep to the original oneness?

Can you let your body become
supple as a newborn child's?

Can you cleanse your inner vision
until you see nothing but the light?
Can you love people and lead them
without imposing your will?

Can you deal with the most vital matters
by letting events take their course?

Can you step back from your own mind
and thus understand all things? 
Giving birth and nourishing,
having without possessing,
acting with no expectations,
leading and not trying to control:
this is the supreme virtue.
It is Wednesday night – as good a day as any for this week's Tao Te Ching Tuesday.  The translation I have chosen for this chapter is Stephen Mitchell's.  I should warn you that I am going to ramble a little, but will focus mainly on the second sentence, which Mitchell translates, "Can you let your body become supple as a newborn child's?"
My second tai chi chu'an teacher – half a lifetime ago – was Bataan Faigao (pictured here).  Bataan was born in the Phillipines and came to New York City as a child.  He and his wife Jane studied tai chi there under legendary grand-master Cheng Man-ching.  After Professor Cheng's death in 1975, the couple moved to Colorado, where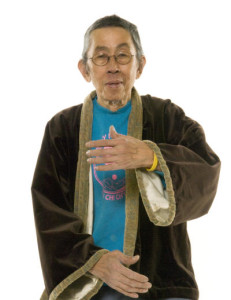 they taught at Naropa University and founded the Rocky Mountain Tai Chi Chu'an Foundation.  They eventually divorced, but continued to collaborate professionally until Jane's life was shortened by cancer.  Bataan continued his work with tai chi and directed Naropa's Traditional Eastern Arts program until his own passing last Fall while on a pilgrimage to China.
In New York, Bataan had served as Cheng Man-ching's personal assistant and chauffeur (Professor Cheng was a master of Chinese medicine, martial arts, calligraphy, painting and poetry; but apparently did not drive).  Due to this close association, he had some wonderful stories about Professor Cheng, and I am going to share one of those in moment. Continue reading →