Sometimes – and usually it only lasts until my wife sets me straight – but too often – I start to think that I am more clever than I really am.  Recently, I thought it might be clever to write something contrasting Jack Dawkins, the Artful Dodger, with Donald Trump, the Deceitful Draft Dodger.  It wasn't long before I realized that the idea would not go over well because there are just too many people who have attended "schools" like Trump University and who don't even know who Charles Dickens is – or was.
I also realized it would be disingenuous of me because at about the same time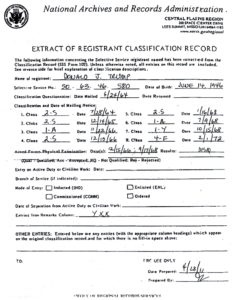 Mr. Trump was not serving his country in Vietnam, I was not serving my country there, either.  For a lot of that period of non-service, our excuses were the same:  we were attending college and entitled to student deferments.
My next idea was to post Phil Ochs' "Draft Dodger Rag" as a Song of the Week.  However, doing so would be unfair because I would still imply that Mr. Trump was just a "draft dodger," as his critics have said; and not recognize that he may have held strong convictions about the injustice of the Vietnam War and the draft that cycled 18-, 19- and 20-year old boys and men to die by the thousands and accomplish very little.  I had such convictions, and Trump may have, too.
Instead, I decided to post Ochs' song, "I Ain't Marching Anymore."  This piece, first released on the 1965 album of the same name, is thematically similar to compositions like Buffy Sainte-Marie's "Universal Soldier" and "Masters of War" and "With God on Our Side" by Bob Dylan in showing that throughout history the conscript, the foot soldier, the one who had no personal political power at home has been sacrificed to benefit those who did hold power.  "It's always the old who lead us to the war, always the young to fall," Ochs sings.  Then he recognizes that the same young men who are being sent to die hold power to stop the killing by simply refusing to participate.  I purposely chose not to participate and perhaps my compadre, Donald, did the same.
While he was attending Ohio State University, Phil Ochs' roommate, Jim Glover, taught him to play guitar and introduced him to folk music and leftist politics.  Ochs was a sergeant in the ROTC at the time, but he learned well and quickly.  He dropped out of college after his junior year and moved to Greenwich Village where he wrote "protest songs" and performed in the coffee houses.
He was a good songwriter and delivered his message with such passion that he soon became a leading spokesman for the anti-war movement.  He had moderate commercial success for a few years, while continuing his political involvement through things like his performing for the protesters at the 1968 Democratic Convention and then testifying (and reciting the words to "I Ain't Marching Anymore") at the trial of the Chicago Seven.
However, throughout his whole career he seemed to be in the shadow of Bob Dylan.  From what I have read, Phil Ochs idolized Dylan; but Dylan "toyed with that idolatry and kept Ochs at arms length," as one commentator has said.  Nevertheless, he did perform several times with Dylan, and was a part of Dylan's Rolling Thunder Review in 1974.
By the mid-1970s, Ochs had begun to exhibit some serious mental and emotional problems.  The quality of his song writing declined, he began performing dressed as an Elivis imitator, he suffered permanent vocal damage from a mugging in Tanzania, and he tragically took his own life in 1976.
There is so much more that could be said about Phil Ochs, but this is not the right post for that.  A good, succinct remembrance by Richie Unterberger is available at allmusic.com.
My own memory of him goes back to August of 1966.  During my very first week at the University of Colorado, Phil Ochs played a free concert on campus.  It was a pretty informal setting, and I remember Phil walked out in front of the small crowd and began tuning his guitar.  He did it magnificently.  He was playing riffs that impressed me no end while turning the tuning pegs a bit here and there.  I was just a kid.  At that point I had never heard Jimi Hendrix or Mark Knopfler or Rudy Spano.  Still, I had heard good guitarists before and knew how to play F, C, G and Am chords myself; and I could tell the guy had talent.  He had a clear, melodious voice and he delivered his singing journalism with such conviction that I had to agree that I wasn't marching anymore – and I had been in marching band throughout high school, so I knew about marching.
You know, there is probably much more that could be said about Donald Trump, too.  I could even try to say something else nice about him, but no one would believe me.  So, Donald, if you read this, I ain't goose stepping any more.  You have toadies for that.
I Ain't Marching Anymore
By Phil Ochs
Oh, I marched to the battle of New Orleans
At the end of the early British war
The young land started growing
The young blood started flowing
But I ain't marching anymore
For I've killed my share of Indians
In a thousand different fights
I was there at the Little Big Horn
I heard many men lying, I saw many more dying
But I ain't marching anymore
It's always the old to lead us to the war
It's always the young to fall
Now look at all we've won with the saber and the gun
Tell me is it worth it all
For I stole California from the Mexican land
Fought in the bloody Civil War
Yes, I even killed my brothers
And so many others
But I ain't marching anymore
For I marched to the battles of the German trench
In a war that was bound to end all wars
Oh, I must have killed a million men
And now they want me back again
But I ain't marching anymore
It's always the old to lead us to the war
It's always the young to fall
Now look at all we've won with the saber and the gun
Tell me is it worth it all
For I flew the final mission in the Japanese sky
Set off the mighty mushroom roar
When I saw the cities burning I knew that I was learning
That I ain't marching anymore
Now the labor leader's screamin'
When they close the missile plants
United Fruit screams at the Cuban shore
Call it, Peace, or call it, Treason
Call it, Love, or call it, Reason
But I ain't marching anymore
No, I ain't marching anymore
© UNIVERSAL MUSIC PUBLISHING GROUP