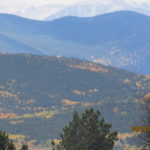 In preparing this series, I have looked at a number of other people's lists of Colorado Songs. Can you believe that none of them have included "On the Natural," by Hoyt Axton?  I am putting it on my list to set that travesty to rights.
I previously mentioned this song in passing while discussing Chapter 9 of the Tao Te Ching, and I wrote a few things about Hoyt Axton in commenting on his song, "The Devil."  To avoid redundancy, I will be brief here.
You probably know that for many years Hoyt battled the "demons of addiction" that came in the form of alcohol and cocaine.  In the late 1960s, when he got his first major record label contract, he was also experimenting with LSD.  That, or Columbia Records' attempt to make his music relevant, seems to have influenced his 1969 album, My Griffin Is Gone.  Unlike most of his other work, the songs on this album are heavily produced and almost lushly orchestrated, resulting in a folk/country/psychedelic mélange.
That sounds like a strange combination, but the approach worked well on songs like the anti-war "Beelzebub's Laughter,"  It was not so successful on some of the others.  The album was not a commercial success, and today it is usually referred to as "obscure."  In his "Consumer Guide,"   Robert Christgau, of Village Voice fame, and the self-proclaimed "dean of American rock critics," grades the album as a D+ and says, "Hoyt Axton, who can't sing, has written two good songs, 'The Pusher' and 'On the Natural.' The latter is on this record, produced by Alex Hassilev, who can't produce."  Though I would disagree with the more smug portions of that smug assessment, it shows that My Griffin Is Gone was not well received.
Hoyt Axton was born on March 25, 1938, making him 31 years old when My Griffin Is Gone was released.  He was old enough and smart enough to understand that he needed to overcome his problems with substance abuse, and it was during this period – the late 1960s and early '70s – that he wrote some of his best anti-drug songs.  Two of them are found on this album, "Snow Blind Friend" and "On the Natural."  Here, we are looking at "On the Natural."
Shortly before recording the album, Hoyt lived for a time in Crested Butte, Colorado.  It was a slower paced lifestyle than he was used to on the road or in California.  He seems to have realized that if one just catches his breath and looks around, Nature (especially in the Colorado mountains) is miraculous and a better and more lasting "high" than is possible with chemicals.  He tells us that in "On The Natural."
In the liner notes to the album, Hoyt wrote,  "Someone once told me in a dream that truth was a great white bird. Here are some feathers I found."  "On the Natural" is a feather from the Bird of Truth.
On the Natural
By Hoyt Axton
Would you like to go to Colorado?
Heaven's there I'm told, in Colorado.
Well I'm leavin' in the morning
And I'd like to take you with me,
I feel that Colorado is a place we could be happy
In the mountains,
La-da-da-da-dum
Rocky Mountains
La-da-da-da-dum.
Everybody talk about the place of their dreams
Where they can find peace of mind
I'm not sure but I think it seems
I've finally found mine.
In the mountains,
Rocky Mountains.
Up on the mountain
you don't need your little blue pills,
And there's a golden light
In them thar hills.
On the natural,
On the natural,
La-da-da-da-dum,
La-da-da-da-dum
Would you like to be in Colorado?
Something's drawing me to Colorado.
You can leave all of the hangups
Of the city in the city
And the crystal morning sunshine
Is so pretty
In the mountains,
La-da-da-da-dum,
Rocky Mountains,
La-da-da-da-dum
*********************************
[I cannot understand all the words to this verse]
Where have all the buffalo gone?
Up on the mountain you don't need to blow no grass,
And all the tea you need is sassafras.
On the natural,
On the natural,
La-da-da-da-dah,
La-da-da-da-dah.
Everything is real in Colorado,
And real is how you feel in Colorado,
I'm tired of plastic people
With their neon souls aglow,
So I'm going to Crested Butte, babe,
I've just got to try once more
In the mountains,
La-da-da-da-dum,
Rocky Mountains,
La-da-da-da-dum
For an index of the Colorado Songs in this series, please click here.