Chapter 6 – The Divine Feminine
The Valley Spirit never dies.
It is named the Mysterious Female.
The gate of the Mysterious Female
Is the root of heaven and earth.
It is continuous and seems to be always existing.
Use it and you will never wear it out.
A picture, they say, is worth a thousand words; and our friends the ancient Taoists have drawn a good one for this Tao Te Ching Tuesday's consideration of Chapter 6.  It looks something like this: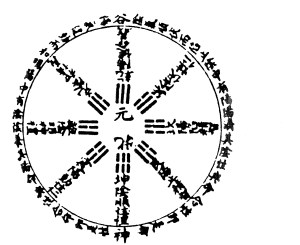 This drawing is known as the Diagram of the Primal Integration of Yin and Yang, and has special meaning for those who practice what is called "internal alchemy" (which is not going to be discussed in this essay).  My knowledge of Chinese leaves much to be desired, but it is my understanding (and it is discussed here) that the characters in the center may be translated as "Mysterious Feminine."  The symbol at the top means "Valley" and the one at the bottom means "Spirit."
The words around the perimeter of the circle mean something like:  When Yang energy is strong and active, yet harmonious and clear, there is Yin within Yang.  The Yin nurtures the yang and your destiny is in accord with your nature.  When the Yin energy is docile and restrained, yet can also restrain, there is Yang within Yin.  The Yang balances the Yin and your nature is in accord with your destiny.  When that occurs, nature is destiny.
Though I could say that the diagram speaks for itself, it is still a bit abstract; so I would like to add a few words of my own.
This chapter is clearly written about Yin.  The feminine is Yin; the valley is Yin; the gate is Yin.  Yin is receptive and yielding.  It is dark and passive.  Yet, it is from the Yin that all things are given birth.  The diagram shows the eight trigrams of the I Ching, which are all combinations of Yin and Yang, moving out from the dark, quiet, passive center and filling the whole circle, which represents the entire physical universe.
In the last line of Chapter 5, Lao Tzu told us that it is better to stay centered.  Here we see that when we reach the center, we reach the source of the 10,000 things.  Perhaps we should try to go there.  Find a quiet spot, close your eyes, clear your thoughts.
That's the hard part – clearing your thoughts.  Something that might help is to label the thought that won't be cleared.  Acknowledge it by saying, "Yes, that is a thought."  Then tell yourself, "I wonder where my next thought is going to appear."  Then wait for that thought.  In the space between the thought you have acknowledged and the one that is coming, you just might notice the Mysterious Female.