Chapter 27 – The Essential Mystery
A good traveler leaves no track or trace.
A good speech leaves no flaws.
A good reckoner uses no counters.
A well-shut door needs no bolts, and yet it cannot be opened.
A well-tied knot needs no rope and yet none can untie it. 
Therefore the sage is always good in saving men and consequently no man is rejected.
He is always good in saving things and consequently nothing is rejected.
This is called following the light (of Nature). 
Therefore the good man is the teacher of the bad,
And the bad is the material from which the good may learn.
He who does not value the teacher,
Or greatly care for the material,
Is greatly deluded although he may be learned.
Such is the essential mystery.
 Translation by Wing-Tsit Chan (1963)
 Happy Thanksgiving!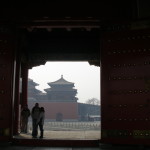 You know, after studying a chapter of the Tao Te Ching  and comparing translations, meditating on the words for a bit, and taking the time to write down my thoughts on the material,  I always feel grateful when someone stops by the website and reads some of the words – I hope that each reader is able to learn something.  I feel grateful, too, for the Tao Te Ching Daily's concept of Tao Tuesdays for anyone who wishes to comment on a chapter of Lao Tzu's work.
Mostly, though, I am grateful for you – yes, YOU, personally.  You are a good person, and 2,500 years ago Lao Tzu wrote these words to remind you, and inform the rest of us, why you are in this world.  You are "the good man [who] is the teacher of the bad."  So I would like to take this opportunity to thank you.  I do value your teaching and care for the material.
 It took an ancient Chinese master to show me the subtle ways in which you give guidance.  He tells us first that a person who is good or skilled in some activity acts in such a natural manner that even the most amazing results seem to occur without effort.  Imagine a traveler who passes by with no track or trace or a carpenter who builds such a perfect door that it can be secured without locks.
A sage like you has similar skills.  You seem to be doing nothing but leading your own life, following the light of nature, while you are showing the Way (the Tao) to humanity and to the 10,000 things.  Thank you for being just who you are.  I had thought the good teacher would bring lectures or sermons.  Those aren't necessary, are they?
I also hope that you – yes, YOU – have learned something from what I have written or how I have lived.  Following the light of nature does not require that you know who I am, or that I know you.  That is part of the essential mystery.  Perhaps one of us will soon learn the rest of that mystery.  Then you/I can teach me/you to avoid the delusions.