Chapter 2 – The Wu-Wei Way
When the people of the world know beauty as beauty,
There arises the recognition of ugliness. 
When they all know good as good,
There arises the recognition of evil. 
Therefore:
Being and non-being produce each other;
Difficult and easy complete each other;
Long and short contrast each other;
High and low distinguish each other;
Sound and voice harmonize with each other;
Front and back follow each other. 
Therefore the sage manages affairs without action (wu-wei)
And spreads doctrines without words. 
All things arise and he does not turn away from them.
He produces them but does not take possession of them.
He acts but does not rely on his own ability.
He accomplishes his task but does not claim credit for it.
It is precisely because he does not claim credit
That his accomplishment remains with him.
This chapter again reminds us that our mind exists to make distinctions.  However, those distinctions are not as real as it would have us believe.  Rather than being opposites, high and low, short and long, front and back are really complements.
One classic example to illustrate the concept is that of a magnet.  If you begin with a bar magnet, it has two poles, one of which is clearly positive and the other clearly negative.  If you cut that bar in half, two magnets will be produced, each with a positive and negative pole.  Cut each of those and there are four magnets with positive and negative poles.  No matter how small the magnet becomes, it will always have two poles.  And that's just the way it is.
Perhaps that is what wu-wei is, also – just the way it is. 
Wu-wei is an essential element of Taoist thought, but is very difficult to explain.  Wu means no, so that part is easy.  The harder part is no what?
Wei has multiple meanings including "action," "governing," "control" and "effort."  So, is the sage to manage affairs without acting at all, or without effort, or without governing or controlling them?  I think all of the above is the correct answer.  The next lines from the chapter give some guidance.  They tell us to accept whatever happens, let things flow naturally, do what is necessary and then move on without attachment to the result.
Someone recently told me that his young nephew had taken one of those tests where the child is asked to complete well-known (to adults) proverbs.  One of them was "You can lead a horse to water, but ______________."  This particular child wrote "you don't have to because he will go when he is thirsty."
His response clearly recognizes non-action.  Nature takes its course so what is necessary is completed.
Lao Tzu would probably also approve the traditional answer, which is "you can't make him drink."  While leading the horse is a form of action, the acceptance of the fact that the horse may not wish to drink is non-controlling.
We adopted our dog Darcy from a puppy rescue organization.  She was 12 weeks old and weighed 9 pounds, and the rescue people thought she was a kelpie mix.  Kelpies are Australian herding dogs that weigh around 35-40 pounds as adults.  We gave her food and water, took her for walks, made sure she had her exams at the vet.  She grew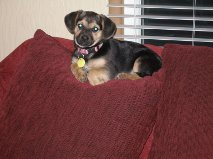 , but not as much as we had expected – finally weighing in at 24 ½ pounds.  Were we upset that she is smaller than anticipated after the actions we took?  Not at all.  She ended up being the perfect size for a Darcy Dog.  Forty pounds may have been perfect for another dog, but not this one.  We did what was necessary for her to grow and mature, knowing we could not control the final outcome.
Turning now from acts of nature, suppose you discovered a hole in your roof.  If your wu-wei way would be to take no action, rain water would follow its natural course through the hole until one day the wet ceiling collapsed in your bedroom.  You would more wisely follow the way of acting without effort by repairing the hole and avoiding the need to replace major structural and electrical components of the house.
Or, perhaps the way of least effort is to pick up the telephone and call someone who is skilled in making repairs.
It seems that sometimes almost any course you might wish to follow is in fact the proper way of wu-wei.  It matters not so much what you do or not do as how it is done.  The sage is supposed to accept the situation as it is presented, act in a manner that will accomplish whatever needs to be done and continue life without emotional attachment to the results.
A gentleman named Serge King has written several books on the Hawaiian Huna philosophy, which he says is based on seven basic principles.  The final principle is "effectiveness is the measure of truth."  If it works, it is Huna.
If the mind is properly at peace, it is wu-wei.