Chapter 15 – Bodhisattva
The true masters of ancient times cultivated the art of the deep understanding of the subtle essence.  
So deep as to be unrecognizable, we can only describe their demeanor.  
Deliberate, as if crossing a frozen stream in winter.  
Alert, as if faced on all sides by enemies.  
Dignified, as if an honored guest in someone's home.  
Dissolving, as ice when melted.  
As solid and simple as an uncarved block of wood.  
Open, like a valley. Obscured, like a muddy pool when you cannot see the bottom.  
Who has enough stillness to let muddy water settle?  
Who is able to stay at rest while generating the movement of everyday life?  
On this path of Tao, one avoids the fullness of things in order to be truly empty.  
Therefore, one is able to continually be refreshed.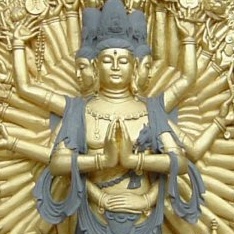 The above translation of this week's Wednesday edition of TaoTe Ching Tuesday is that used by Amy Putkonen (who initiated Tao Te Ching Tuesdays) on her web site,  http://taotechingdaily.com/15-the-true-masters/.  Like my comments on Chapter 14, I intend to share a few brief thoughts about this verse rather than writing a more formal  essay.
______________________________________
It seems that we should be able to recognize the true masters among us by the way they communicate and the way they act.  Lao Tzu tells us that is not the case.  Rather, the masters are not easily recognized.  They do not seek publicity.  Their actions are based on the circumstances presented to them.

Our material world itself is not constant.  Nothing here is permanent.  The sage knows that the only permanence is change.  Following the Tao, the master flows with the changes that define each moment.  Because he or she is able to live in the flow of nature, his or her actions are simply appropriate – they do not stand out.  They draw no more attention than the passing breeze or the tree on the hillside.  This is a facet of acting through non-action. The acts of a sage may change from day to day and they may seem inconsistent to an observer; yet they are appropriate.
___________________________________________
The actions of the sage are said here to be "as solid and simple as an uncarved block of wood."  This image is repeated throughout Taoist writing to represent that which is simple, pure and genuine.  It is nature in full accord with the Tao before it has been acted upon by an outside force.
At least that is the easy explanation – but it is not quite right.  A tree would be the symbol of nature.  A block of wood is created after a tree has been cut down and is another representation of infinite potential.  From the block of wood a skilled carver can create a bucket, a bear, two lovers, a horse, a carriage; in short, anything that can be imagined.  First, however, it must be prepared:  the tree must become a block of wood.
A true master is the same and may appear anywhere, at any time, in any form.  Yet the master must also prepare.  I recently read some comments by  Soko Morinaga, a Japanese Zen master, who said, "This may seem incidental, yet the most important condition of all is to find peace oneself and to become enlightened before attempting to teach others."
We all need to find that peace so we will have "the stillness to let muddy water settle" and to calmly "generate the movements of life."
________________________________________________
Teaching may come in many forms, however.  I wrote about the events behind this next thought in another post, but was reminded of them again as I read this chapter.
When our children, Michael and Suzanne, were perhaps 7 and 5, I took them to the Denver Art Museum one Saturday afternoon.  We spent some time looking at the Native American exhibit which they enjoyed; then we began looking at art from the other Indians – the ones from India.  The kids liked Ganesha with his elephant head and Shiva with his four arms standing on the back of a dwarf.  There were representations of various bodhisattvas and gods and goddesses.  As we passed by, I overheard a lady in her late 20s ask a museum guard, "Could you tell me what 'bodhisattva' means?"
The guard replied, "I'm sorry, I don't know.  I don't usually work on this floor."
I approached and said, 'Excuse me.  I overheard your question, and maybe I can answer it."  I summarized what I understood of the Buddhist belief in reincarnation, with the ultimate purpose of reaching Nirvana and escaping the endless cycle of birth and death and re-birth.  However, I explained, some beings are so filled with compassion for others that when they reach perfection, they nevertheless choose to be re-born to help others move to higher spiritual levels.  Those beings are called "bodhisattvas."
Another museum visitor, a young man, had stopped to listen to my explanation.  When I paused, he said, "Yeah, it's like that 'Bodhisattva' song by . . . by . . .uh, who is that?"
"Steely Dan," I said.
"Right, Steely Dan." Everyone thanked me, and went their separate ways.  My children may have thought – at least for a few minutes – that I was pretty smart.  When those minutes had passed, Suzanne, acting as a bodhisattva, asked if we could go get ice cream.
As we left the museum, I mused on what I would say if the people I had spoken with had not thanked me, but looked with awe and asked, "Are you one of those bodhisattvas?"  Should I tell them?  Would they still like me?
Or, what would they have said if I asked if they were bodhisattvas practicing the Socratic Method?  They should have said yes.
Let's go back to the definition.  If we say a bodhisattva is supposed to be a being that has reached perfection and is in the material world to help others recognize their perfection, the folks at the art museum were just that.
Would your husband or wife qualify as a bodhisattva?  There is no doubt about it.
What about your parents, children, siblings and neighbors?  Yes, yes, yes and yes.
How about your boss and co-workers, the pine tree outside the window, your dog, my cat?  Yes and yes, yes, yes and most certainly (she assures me).
I know that if any Buddhist or anyone who has studied Buddhism reads this, he or she will immediately see the folly in what I have written.  No being, I will be told, can become a bodhisattva without taking the necessary vows.  A bodhisattva must engage in the 37 practices.  In other words, my definition seems to have left out the requirement of volition on the part of the bodhisattva.
Of course that is true.  What I have written is folly.  I wrote as if there is a distinction between me or you and any bodhisattva.  The traditional Buddhist would also speak as if there were separation – again, folly.
This separation is quite real – when we observe the "fullness of things."  However, if any of us can become "truly empty," distinctions and delusions, which are quite real, dissolve into the emptiness, which is also real.
For now, I think that if anyone asks if you are a bodhisattva, don't think about it.  It doesn't matter if they will like you.  Just empty your mind for a brief moment and say YES.  In that moment, you will be correct.
[The photograph, which is a detail of a relief of a bodhisattva found in Jiuhuashan in China's Anhui Province was taken by Nat Krause in June 2004 and has been released into the public domain.  Thank you, Nat.]