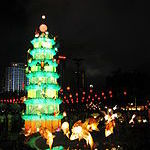 The Chinese have just finished their celebration of the Mid-Autumn Festival.  I think I will munch on a mooncake and sit back to see how the new solar flare affects us here on the Earth and Moon.  I will get back to writing in another week or so.
I have been working the past few weeks on a high school alumni "hall of fame" project.  It started me thinking about what should be recognized in a hall of fame.  Should it be actual fame, even if that means notoriety?  Should it be accomplishment, even if that occurs in private and the general populace knows nothing of it?
Many readers don't realize that the National Baseball Hall of Fame in Cooperstown, New York has inducted such people as Nestor Chylak, Jr.; Hank O'Day; Bid McPhee; John H. Lloyd; and Michael "King" Kelly.  Those are hardly household names, but they all contributed to the sport of baseball.
There are many ways to be famous.  Andy Warhol famously said that in the future everyone would be famous for 15 minutes.  That does not include me, however, because I am going to be on break during that quarter hour.