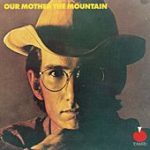 Singer-songwriter Townes Van Zandt (whose full name was John Townes Van Zandt) was an enigmatic, perhaps singularly talented individual.  He never had a hit song, and most people probably don't even know his name.  Nevertheless, he was quite influential in the music business and his songs – the best known of which are "Pancho and Lefty" and "If I Needed You" – have been recorded by numerous artists, including Willie Nelson, Emmylou Harris, Guy Clark, Joe Ely, Cowboy Junkies, Lyle Lovett and many others.  A documentary film about his life, entitled Be Here To Love Me was released in 2004, and he has been the subject of at least three full length biographies, perhaps the best being A Deeper Blue:  The Life and Music of Townes Van Zandt (2008), by Robert Earl Hardy.  I can't hope to give much insight into his life in this brief post, so let me simply tell you why this is a Colorado Song.
First, of course, the name of the song is "Colorado Girl," which probably qualifies it for inclusion even though it comes from a quintessential Texas songwriter.
My maternal grandparents settled into Sulphur Springs, Texas, which is between Dallas and Texarkana, in the latter part of the 19th Century.  If you were to travel to the southwest for less than an hour from their house, you would be in Van Zandt County, which is nothing at all like Colorado.  The county was named for Townes' great-great-grandfather, who had been the official diplomatic representative of the Republic of Texas to the United States, and who had died while he was running for governor.  His great-grandfather was one of the founders of Fort Worth.  His mother's maiden name was Townes, and she was a direct descendant of John Charles Townes, for whom the main building of the University of Texas at Austin Law School was named.
With that pedigree, he might have spent his life in Texas and become quite influential in matters other than music.  However, his father was an attorney in the oil industry and his business required the family to move frequently.  In 1958, when Townes was 14 years old, they moved to Boulder, Colorado.  He attended school there for a short time, but because of his extremely high IQ he spent his last high school years at the exclusive Shattuck-St. Mary's School in Fairbault, Minnesota, where the son of Senator and soon to be Vice President Hubert Humphrey was one of his classmates.  After graduating from Shattuck in 1962, he returned to Boulder to attend the University of Colorado. Continue reading →