Chapter 70 – The Jade Is Within
 My doctrines are easy to understand and very easy to practice,
But none in the world can understand or practice them.
My doctrines have a source (Nature); my deeds have a master (Tao).
It is because people do not understand this that they do not understand me.
Few people know me, and therefore I am highly valued.
Therefore the sage wears a coarse cloth on top and carries jade within his bosom. 
Translation by Wing-Tsit Chan (1963)
 I would like to begin this essay with two quotes from Confucius or his later followers.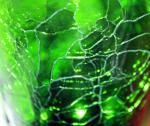 The translation for each is taken from Hellmut Wilhelm's Change: Eight Lectures on the I Ching, which was translated from German into English by Cary F. Baynes (1960):
First:
 "The Master said:  Writing cannot express words completely.  Words cannot express thoughts completely. 
"Are we then unable to see the thoughts of the holy sages? "
(Wilhelm, Page 36).
The other:
 "First take up the words,
Ponder their meaning,
Then the fixed rules reveal themselves.
But if you are not the right man,
The meaning will not manifest itself to you".
(Wilhelm, Page 65)
I am tempted to stop right here and say that Confucius has just explained to us what Lao Tzu wrote in this chapter – both because he has and because while the doctrines may be easy to understand and to practice, they are not easy to explain.
In the first lines of Chapter 1, Lao Tzu warned us that the Tao that can be told of or named is not the eternal Tao.  Now here we are, several thousand Chinese characters and English words into the telling of Tao and Te, and the Old Master is reminding us of the limitations on what we have read.
In many ways, Lao Tzu's words and their translations seem reasonably easy to understand, and even reasonably easy to apply and follow.  Therein perhaps lies the problem.  Reason is a human construct.  Nature and Tao, which are here said to be the source of Lao Tzu's doctrines and the master of his deeds, do not reason.  They simply are.
Yet not even that last three-word sentence is simple or true.  If Tao is the master of the sage's deeds, the servant would be doing very little, for wu wei, the course of non-action, would direct those deeds.   Most people will not understand this.
The words of the Tao Te Ching are simple, humble even, like coarse cloth.  We have been told of their limitations.  The real treasure of this life lies within the soul or spirit of mankind; and very few look beneath the poor clothing in which the treasure is presented.*
But if you are the right man or woman, the meaning will manifest itself to you.  It is your treasure, after all.
_______________________________________
*  Sort of like Bilbo's riddle to Gollum in The Hobbit – "What is in my pocket?"