Chapter 60 – Ghosts: Evil, Boo Evil
Govern a great country as you would fry small fish: [neither gut nor scale them.]
 If with Reason the empire is managed, its ghosts will not spook.
Not only will its ghosts not spook, but its gods will not harm the people.
Not only will its gods not harm the people, but neither will its holy men harm the people.
Since neither will do harm, therefore their virtues will be combined.
Translated by D. T. Suzuki and Paul Carus (1880)
The translation by Suzuki and Carus is one of the oldest English renditions of the Tao Te Ching, and it seems to be one of the most literal. It is one of the few I found that speaks directly of ghosts. In Wayne Dyer's comments on this chapter he counsels that one should exclude evil from his or her life. Ron Hogan talks about "misfortune." Stephen Mitchell is another who uses the word "evil" instead of "ghosts," as do Jane English and Gia-Fu Feng.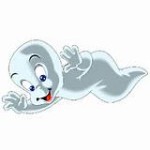 It is easy to see why a modern intellect would look at a reference to ghosts as a metaphor for the concept of evil; but 25 centuries ago Chinese ghosts, and especially ancestral spirits, were considered to be very real and not a metaphor for anything. The Chinese culture had practiced ancestor worship or veneration since at least the late Neolithic Period, more than 5,000 years before the time of Lao Tzu; so I think the Old Boy was using the term "ghosts" in what was then the popular sense.
The ancient Chinese practice arose from the belief that spirits of the dead could influence the world of the living, for good or for ill. The worship of one's deceased ancestors was intended to keep those spirits happy so they would look favorably on their descendants, and even intercede to help the living.
Such beliefs were not confined to the Orient or to ancient times.
A more modern recognition of ancestor veneration may be seen in a book entitled To Be a Revolutionary, by Fr. J. Guadalupe Carney, S.J. (1985)*, which is an autobiography of a Jesuit priest – a World War II veteran from St. Louis, Missouri – on the path to radical liberation theology through his missionary work in Honduras. Discussing his first visit to that country in the early 1960s, he writes (at page 140):
"Latin Americans have a real cult of the dead, It is an inheritance from the Indian religions and from the Africans who came as slaves. Almost everyone believes that 'souls wander around,' that a dead person's soul can return to its house to bother people, and that it cannot find rest because it had not carried out some promise made to a saint. Many will swear that this dead person spoke to them or that they clearly saw it.
"During the all-night vigil for a dead person, they always light four candles, one at each corner of the coffin, and they put out a glass of water for the deceased. Many believe that the next morning there is less water in the glass. They feel they have to pray the novena for the souls in purgatory for each dead person; this is more important to them than a mass."
The idea, then, is to keep those who have died happy so they will not cause any trouble among the living.
This chapter begins by advising the ruler of a large country to govern as if he were cooking a small fish. That is, to not poke and cut and turn it, causing the delicate fish to break into small pieces. Again, this is the concept that the best government is that which governs least. By taking that approach, the whole country will be able to move to the rhythms of Nature – and that is the way the ghosts and gods and shamans like it. Those beings will have peace and the common living beings can enjoy it, too.
There is another problem with the interpretations of this Chapter 60 that focus on evil or misfortune. Anyone who has read this far into the Tao Te Ching should know that evil is a complement of and on a continuum with good. Fortune and misfortune are relative terms. Thus, those interpretations actually run contrary to some basic tenets of Tao.
Before closing, I should explain the title of this essay, "Ghosts: Evil, Boo Evil?" It is a bit of a private joke that probably nobody but me would think funny.
A number of years ago, I took a course in spoken Chinese (Mandarin). I do not remember very much from that study, but I recall that bu (pronounced "boo") is a negation. So wo shr or wo shi means "I am," while wo bu shr or wo bu shi means "I am not." One method of asking a question is to follow a noun with both the positive and negative forms of a verb. For example, Shoubiao mai bu mai? Would literally mean, "Wristwatch buy not buy?" but could be translated as ,"Will you buy a wristwatch?"
That may not be a totally correct explanation – it's been a long time – but it puts the title into some perspective. It is a play on words asking whether or not the ghosts are evil; and ghosts, as we know do say "boo."
_________________________________
* Father Carney's path became a sort of a Tao of Social Revolution, as he came to blame the economic and social problems of the campesinos on the rich landowners, the CIA and the United Fruit Company. He was eventually expelled from Honduras and became a "chaplain" to a group of revolutionary fighters in Nicaragua. That group returned to Honduras in 1983. Father Carney "disappeared" at that time and is assumed to have been killed. It seems that is what he would have wanted, for several times in his book he says that if you truly love someone you will want to experience life as it is experienced by that person. He also makes it clear that he truly loved Jesus. He believed that Jesus died to bring a better life, both socially and religiously, to others. I have to assume that he perceived his own death occurring for those same purposes.